Filters:
Angelita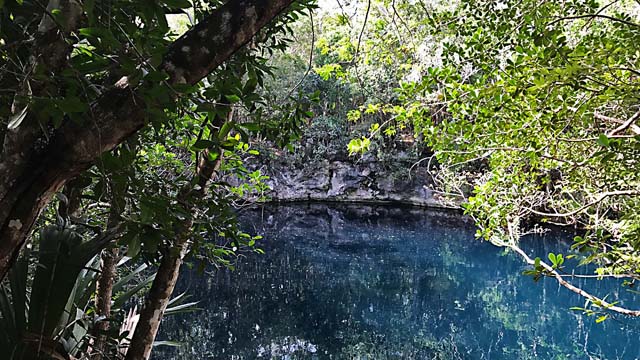 Angelita (English: 'little angle') is not only an atypical cenote dive, but a once in a lifetime dive in all aspects. Located 18km (11miles) south of Tulum, it is the furthest site visited from Playa del Carmen.
After a 5min walk through the jungle you will reach the circular shaped cenote that goes all the way down to almost 60m (197feet). A little bit as in El Pit you will find a hydrogen sulfate layer at 30m (98 feet) depth. Underneath the milky cloud you will now no longer be in fresh water but salt water. Its very dark here and gives the diver the feeling of being in a forest at night with the big fallen trees that now rest at the top of the mountain like bottom.
Calavera
Cenote Calavera, which also means "Skull Cave" is also known as "Temple of Doom". It is located just outside of Tulum, on the road to Coba. Completely different from any other cavern in the area, the entrance passes through a round hole on the surface rock. The adventure starts almost imminently as you have to jump about 3m (10feet) to the waters surface.
The cavern area is a huge room with a hill of sediments and rocks in the center. During the dive, divers wind their way slowly around the hill, traveling at different depths alongside the walls of the cenote. During the dive it is possible to move through three different halocline layers. There's a lot of light in the cavern and a lot of fossils to discover. Look up towards the entrance and with a bit of imagination you might recognize the "skull". Light passing through holes of the ceiling, creates an effect of two eyes and a mouth.
Casa
Casa Cenote, located 70km (43.5miles) south of Playa Del Carmen and 10km (6miles) north from Tulum, connects one of the longest underwater cave systems in the world with the ocean. It is one of the few surface rivers on the Yucatan Peninsula.
Casa Cenote gives the diver the feeling of being under the jungle and is perfect for cavern diving, regular diving, swimming and snorkeling. The beauty of the place is absolutely breathtaking above and below surface. The dive follows alongside the jungle and is shaped like a horseshoe. The diver or snorkeler will experience beautiful light penetration, halocline and a mix of fresh and saltwater fish species because of the location right next to the ocean.
Car Wash
Dos Ojos
Dreamgate
Garden Eden
Kin Ha
Maravilla
Siete Bocas
Tajma Ha
The Pit
Zapote